58 Best Halloween Movies of All Time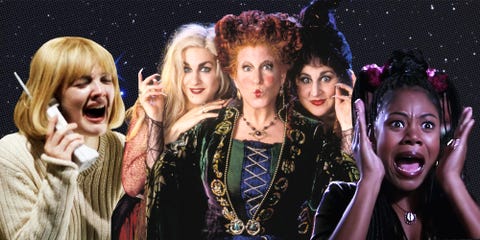 YouTubeShutterstock
Halloween has long inspired some of the scariest films ever made. While Michael Myers continues to reinvent himself, women have stepped front and center in newer, epic horror flicks like Midsommar and Ready or Not. Whether you're looking for a classic fright or a newer take on the genre, here are 58 films to enjoy on Halloween night, or all year long.
Advertisement – Continue Reading Below
This movie's inclusion on any and all Halloween lists is a no-brainer. Not only does it namecheck the holiday in the very title, but it's a standard bearer in the horror genre. Directed by auteur John Carpenter, Halloween tells the story of child psychopath Michael Myers, who is locked away after murdering his 15-year-old sister at the age of 6. He breaks out 15 years later, hell-bent on murdering his other sister, Laurie, played by preeminent scream queen Jamie Lee Curtis.
2
The Rocky Horror Picture Show (1975)
Waiting until Halloween to make another trip up to the lab with this camp classic may make you shiver with antici…
…pation.
A staple of midnight screenings the world over, the film focuses on Janet (Susan Sarandon) and Brad (Barry Bostwick), a repressed couple who stumble upon Dr. Frank-N-Furter's sexy, scary castle on a dark and stormy night. Come for the B-movie thrills and laughs; stay for Tim Curry's impeccable eye shadow game.
This Oscar-winning possession parable still chills. Directed by William Friedkin, this thriller about a young mother (Ellen Burstyn) who tries to exorcise her young daughter (Linda Blair), is brimming with old-fashioned scare shots and a highly quotable script, plus kitschy practical effects that still manage to rival some of today's CGI.
4
It's the Great Pumpkin, Charlie Brown (1966)
Into sentiment over scares? This holiday version of the beloved Peanuts comic strip is the one for you. Blanket-bearing Linus waits up for the mythical Great Pumpkin while Charlie Brown frets about going to a Halloween party. Spoiler alert: Everything turns out just fine for everyone.
A trio of high-school girls at a Catholic prep school who dabble in witchcraft welcome a new girl with actual powers (Robin Tunney) in this film. Think of it as Heathers with spells. Featuring a pitch-perfect, sinister performance by Fairuza Balk as Nancy, The Craft easily scores as the scariest of the high-school-outcast tales.
6
The Nightmare Before Christmas (1993)
Is this a Halloween movie or a Christmas movie? Unclear. So why not watch it from October to December, just in case? Tim Burton's at times gentle, at times sinister stop-motion musical focuses on Jack Skellington, the king of Halloween Town, whose efforts to bring Christmas Town home produce disastrous results.
Three words: buttons for eyes. This stop-motion masterpiece is a cautionary tale for anyone who has ever thought the grass might be greener (through the hidden door in the bricked-up passageway). Coraline, voiced by Dakota Fanning, feels neglected by her parents and stumbles upon an idealized version of her world where everyone has, yes, buttons for eyes and treats her nicely. But, just like in Hotel California, you can check out any time you want—but Other Mother (Teri Hatcher) will make sure you never leave.
"Do you like scary movies?" That line and the shocking killing that followed it marked the beginning of a new era for horror movies. Written by Kevin Williamson and directed by Wes Craven, Scream is the perfect blend of '90s pop culture archness with slasher film tropes. The series has produced four sequels and a TV series (some good, some… not so much) but the original remains the best.
Here's a campy-scary kids' stalwart that holds up surprisingly well. Anjelica Huston is in top form as Ms. Eva Ernst, the powerful Grand High Witch who turns a boy into a mouse. This film, based on the Roald Dahl book, is probably the only scary movie to ever be set at a witches' convention.
10
Rosemary's Baby (1968)
Offering perhaps the best reason for never befriending your neighbors, this psychological horror classic focuses on a newlywed (Mia Farrow) who becomes mysteriously pregnant and begins to suspect that her neighbors have designs on her baby. Featuring a deliciously creepy turn by Ruth Gordon, this movie is a Halloween must-watch.
11
A Nightmare on Elm Street (1984)
A Nightmare on Elm Street is Wes Craven's still-scary '80s tale of Freddy Krueger, a knife-gloved serial killer who murders people in their dreams. Watch this one if you never want to get a good night's sleep ever again.
Bette Midler, Sarah Jessica Parker, and Kathy Najimy play comedic divas (fine, they're also 300-year-old witches) who spend the entire length of the film chasing a teenage virgin (fine, who has stolen their spell book) in this totally improbable cult favorite from the director of High School Musical. What's not to love?
This ribald 2012 comedy didn't get much love in theaters, but if you're looking for a Halloween-themed, teen-centered answer to The Hangover, this is your best bet. Featuring Victoria Justice as a girl who loses her little brother while trick-or-treating, Fun Size is light on frights but makes up for it with a surplus of dirty jokes, gross-out gags, and other "adult themes."
14
Friday the 13th (1980)
In this horror standard, a group of camp counselors are stalked by a vengeful serial killer. The Friday the 13th series is best known for Jason, a hockey mask-wearing, axe-wielding serial killer, but he doesn't appear in this first installment. Decide for yourself if that makes it less enjoyable than its descendants, which kept the original's inventive gore but got more and more absurd as the years went on.
15
Practical Magic (1998)
This is as close to a Halloween-themed rom-com as you're likely to get. Nicole Kidman and Sandra Bullock play the last in their family's line of witches, who battle the disapproving members of their small town and a curse that dooms any man they fall in love with. Come for the two iconic actresses, who are clearly having a ball; stay for the even more iconic Dianne Wiest and Stockard Channing, who steal every scene as Nicole and Sandra's witchy aunts.
A legit terrifying spin on Hitchcock's creepy Rear Window, Disturbia features an actually excellent turn by Shia LaBeouf as a teen on house arrest who suspects his neighbor is a serial killer. Combing tech-fueled paranoia with old-fashioned thrills, this movie delivers scares right up to the last minute.
17
Halloween H20: 20 Years Later (1998)
This franchise won't die, and neither will Laurie Strode. Jamie Lee Curtis returns to the series as the perpetual target of brother Michael Myers' murderous pursuit. Laurie faked her death and assumed a new name but Myers, who apparently dabbles as a private detective when not on murderous rampages, has tracked her down. Featuring a scream queen turn by future Oscar nominee Michelle Williams, Halloween H20 is a fun-scary modern addition to the genre.
Laurie Strode (Jamie Lee Curtis) goes full Sarah Connor in this reboot of the reboot of the horror classic. A perfect scary movie for the anxious 2010s, filmmaker David Gordon Green is as interested in thrills and chills in this installment as he is in investigating the lasting effects of trauma. The events of the 2018 Halloween deem the sequels non-canonical, choosing instead to focus on the hermetic life of a now 60-ish Laurie Strode, her daughter (Judy Greer), and their relentless pursuit by one Michael Myers.
A truly terrifying horror film about grief and family secrets, Hereditary is as much a psychological study as it is a scream-fest. Toni Collette definitely deserved an Oscar nomination for her role as a mother trying desperately to keep her family together in the face of evil. Watch this one with all the lights on!
The rare all-out Halloween comedy on the list, this Wayans Brothers film spoofs/spooks the Scream series and I Know What You Did Last Summer most directly, but leaves no horror mark unscorched. Featuring Regina Hall and Anna Faris, Scary Movie is laugh-out-loud funny, even if you've forgotten half of the movies it skewers.
This Halloween-set surreal masterpiece is about much broader themes than your standard scary movie. Disaffected teenager Donnie (a brilliant Jake Gyllenhaal) is plagued by visions of a man in a large rabbit suit. We spend the movie unsure if the strange world that Donnie inhabits—one in which he narrowly escapes death and is manipulated into committing crimes—is a product of something awry in his mind or a larger, more world-threatening event. Definitely the most cerebral Halloween pick, Donnie Darko will leave you pondering some of life's big mysteries.
Don't say the name of this movie three times! A comedy classic that's perfect for Halloween, Beetlejuice combines macabre humor about death with sight gags, pratfalls, and Tim Burton's trademark visual humor. After a couple, played by Geena Davis and Alec Baldwin, die in a car accident, they get trapped haunting a house. Their efforts to get rid of the annoying new residents of the house rouse a havoc-wreaking spirit, played by Michael Keaton.
Some may prefer the original miniseries starring Tim Curry, but there's something so uniquely unsettling about Bill Skarsgård's take on Pennywise the Clown and the evil spirit who feeds on children every 27 years. When you're done, give part two a watch (if you dare).
Three words: Naked Jeff Goldblum.
The eccentric performer plays a nebbish of a scientist who accidentally fuses his DNA with that of a fly, as you do. Also featuring the always excellent Geena Davis, The Fly is strange and gross and perfect.
It may be summer in Sweden, but this movie is Halloween at heart. A relentless and creepy film from the director of Hereditary, Midsommar follows an American couple that gets pulled into a Swedish midsummer festival, which is not at all what it seems. If creeping dread gets you going, this is the film for you.
Many horror movies are about the terrible consequences of having sex, but none makes it more explicit than It Follows, an indie offering that tracks a deadly, supernatural, sexually transmitted force. Perhaps the only entry ever in the STD horror genre, this movie transcends its premise to produce consistent gory chills.
Long before The Babadook became an unlikely gay icon, it was the subject of a creepy Australian thriller. After Amelia's (Essie Davis) husband dies, she must raise their son alone. When the boy (Noah Wiseman) begins complaining of a monster under his bed, the family begins a terrifying journey with a sinister supernatural force. A movie that works on a practical as well as a metaphorical level, The Babadook is perfect for thinkpiece-themed Halloween parties.
28
Double Double Toil and Trouble (1993)
If the treats that fill your candy bowl this Halloween are nostalgia and kitsch, you can't go wrong with this Olsen Twins made-for-TV movie. Mary-Kate and Ashley star as twins who are trying to recover a magical stone to free their Aunt Sophia (Cloris Leachman) from a curse put on her by her evil sister Agatha (also Cloris Leachman!). Eric McCormack, a.k.a. Will from Will and Grace, plays the twins' dad. Classic cinema!
29
Ernest Scared Stupid (1991)
Hey Vern, what's a perfectly silly Halloween treat you can enjoy again and again? Let Jim Varney's rubber-faced, adorably dense Ernest P. Worrell help you celebrate the holiday with a comedy about a garbage collector who accidentally unleashes a troll. Bonus: Eartha Kitt co-stars.
Who, and I cannot stress this enough, are you gonna call? Would it be Halloween without the adventures of Venkman, Stantz, and co. and their battle against phantasms looking to take over New York? Grab a box of Hi-C Ecto-Cooler and enjoy!
A remake of the Japanese hit Ringu, The Ring breathed new life (or death) into urban legend-based horror. Naomi Watts plays a skeptical reporter investigating a videotape that, rumor has it, will kill anyone who watches it seven days after they've seen it. Just try not to fall backwards in fright when Samara comes scrambling out of the well.
32
The Cabin in the Woods (2012)
At once a brilliant send-up of the horror genre and a loving homage, this film will satisfy enthusiasts and dabblers alike. Full of sardonic humor and genuine shocks, The Cabin in the Woods follows a stereotypical group of friends who spend a weekend at a secluded cabin in the woods. What starts off as a typical slasher film quickly reveals itself to have so much more up its sleeve; the plot zigs and zags around well-known tropes.
A documentary. Jordan Peele's Oscar-winning film concerns a black man who discovers that his girlfriend's family has a dark secret and a sinister family business; it's at once a searing look at race in America and a chilling thriller.
The start of a truly terrifying series, this film follows paranormal investigators Lorraine and Ed Weber (Vera Farmiga and Patrick Wilson), who fight a possessed house in the '70s. Period detail plus haunted house thrills combine to forge a spine-chilling experience.
An all-too-possible vision of the near future, The Purge paints a picture of a society in which all crime is legal for 24 hours. Marauding gangs take to the streets and one sadistic group zeroes in on a family headed by Ethan Hawke and Lena Headey, who've barricaded themselves inside their home with a wounded stranger. The fictional Purge may take place in March, but this film series is Halloween AF.
Halloween master Tim Burton strikes again with this gothic retelling of the legend of the Headless Horseman. A blonde Christina Ricci stars in this film, which mixes horror, fantasy, and romance in equal measures.
This John Krasinski/Emily Blunt film proves that sometimes the scariest sound in a horror movie is no sound at all. In the future, terrifying creatures stalk humans, drawn to their sound. A family must live out their lives in silence in order to survive. They may be quiet, but you'll be screaming for much of the running time.
A scream-inducing slasher film and thriller, The Strangers will linger long after the credits roll. Thanks to tricky cinematography, convincing performances from Liv Tyler and Scott Speedman and, scariest of all, some truly creepy masks, this tale of a couple who are terrorized by three masked killers is a classic.
Jordan Peele's second scary movie, after the smash hit Get Out, brought audiences out in droves and delivered yet another twisted head game. This time, the action concerns a happy family, led by Black Panther's Lupita Nyong'o and Winston Duke, who encounter silent, terrifying doubles of themselves.
A prequel to 2013's The Conjuring, this film focuses on a doll found in an artifact room maintained by paranormal investigators Lorraine and Ed Weber. After a cult member kills herself while holding an antique doll, frightening events begin plaguing a young family. Things get worse, as they are wont to do in movies like this.
41
The Curse of La Llorona (2019)
Based on a Mexican folk tale, this terrifying feature concerns an angry spirit who is trying to kidnap children in the '70s. Why? Ghost reasons.
The second adaptation of Stephen King's novel delivers the creepiness, as it follows a family who is terrorized by their deceased cat. The 1989 version, directed by Mary Lambert, has a completely different vibe, and a different ending, so why not watch them both?
43
The Addams Family (1991)
Creepy, kooky, altogether spooky Halloween fun can be found in this '90s classic based on the '60s sitcom and the comic that preceded it. When Uncle Fester returns after a long absence, the delightfully morbid family begins to suspect he's an impostor. This film mixes your typical family comedy with a macabre sensibility, making it perfect Halloween fare.
Debbie Reynolds plays a witch grandmother. What more do you need to know? This Disney Channel Original tells the story of a young girl who doesn't know she's destined to be a witch and a town where supernatural beings can lead normal lives.
A meta-trilogy's meta sequel, Scream 4 finds Sidney Prescott (Neve Campbell) returning to Woodsboro for the last stop on a tour for her self-help book. There she links up with future Scream Queens star Emma Roberts, who plays her niece, and, wouldn't you know it, killings start happening. Ghostface is gonna Ghostface, I guess!
Is this the best title on this list? Or, at the least, the most puntastic? Tia and Tamera Mowry once again play twins separated at birth in this Disney Channel original movie. Unlike their sitcom characters, however, they play the daughters of a royal witch, and must use their powers to protect the town from evil on their 21st birthday.
47
Halloween Kills (2021)
If you're a fan of Michael Myers, then you're likely loving David Gordon Green's resurrection of the most iconic Halloween killer. On what's got to be the longest Halloween night of all time, Michael foils Laurie Strode's trap and continues his rampage. This time it's bloodier, more brutal, and filled with nods to the rest of the famous series. Halloween Ends will complete the series in late 2022.
A collaboration between horror legends George A. Romero and Stephen King, 1982's Creepshow is an anthology of creepy sketches. While a few of the chapters border on ridiculous, there are some genuine scares, as well as truly impressive displays of animatronic and prosthetic effects. Beats CGI any day. Check out the TV series afterwards.
2007's Trick 'r Treat is a horror anthology movie starring Anna Paquin and Succession's Brian Cox. Each of the film's four stories features Sam, a trick-or-treater wearing a burlap sack over his head, who enforces the so-called "rules" of Halloween. Since its release, the film has built somewhat of a cult following.
50
The Addams Family (2019)
If you're a fan of any iteration of The Addams Family, then you'll love 2019's animated reboot. Featuring the voices of Oscar Isaac, Charlize Theron, Chloë Grace Moretz, and Finn Wolfhard, The Addams Family is a fresh take on Hollywood's kookiest clan, and it's family friendly.
Based on R.L. Stine's children's series, 2015's Goosebumps is a nostalgic horror comedy starring 13 Reasons Why heartthrob Dylan Minnette and, of course, Jack Black. The latter plays Stine, whose characters manage to escape from his manuscripts, causing chaos in town.
If you've ever thought that visiting a traveling carnival might be a great way to spend Halloween, 2018's Hell Fest will probably change your mind. A group of teenagers visit a theme park to celebrate everyone's favorite holiday. But in between the fun fair rides, a masked killer called "The Other" is picking off the gang one by one. Surprisingly fun.
If you love a body swap comedy, then 2020's Freaky is the film for you. Vince Vaughn plays a serial killer in possession of an ancient dagger, who gets quite the surprise when he stabs high school student Millie (Kathryn Newton). Body swap hijinks ensue, with a healthy dose of horror thrown in.
If you enjoy your horror films with a side of WTF, then try 2021's Malignant. Annabelle Wallis stars as a woman who starts hallucinating horrific murders, only to find out she was involved in them. Any synopsis can't do justice to this truly wild horror romp that's filled with ridiculous yet fantastic twists and turns.
Samara Weaving is fast becoming a horror movie favorite, and her performance in 2019's Ready or Not demonstrates why. Following her wedding, Grace finds herself caught up in a sick tradition started by her in-laws. The movie follows Grace as she embarks upon a pretty scary wedding night, and is filled with punchy lines and surprising deaths. Adam Brody co-stars for good measure.
56
Escape Room: Tournament of Champions (2021)
2021's Escape Room: Tournament of Champions and its 2019 predecessor ask the all-important question: What if escape rooms were created by sadists to watch competitors die horrible deaths? If you liked Squid Game, the Escape Room movies will entertain you until Netflix's hit series returns for its second season.
I'm not sure how you usually spend Halloween, but it's probably best not to enter an "extreme" haunted house. 2019's Haunt sees a group of friends moving from room to room, slowly realizing that this particular Halloween attraction isn't all that it seemed from the outside. With gore aplenty and a pretty wild twist, Haunt isn't for the faint of heart, but it's perfect for Halloween.
58
The Haunted Mansion (2003)
Halloween isn't complete without a trip to Disney's The Haunted Mansion. Based on Disney's iconic attraction, Eddie Murphy stars as a workaholic real estate agent who takes his family to stay inside a haunted mansion for the night. If you love the classic ride, you'll enjoy seeing all of its unmistakeable ghouls and ghosts come to life.
This content is created and maintained by a third party, and imported onto this page to help users provide their email addresses. You may be able to find more information about this and similar content at piano.io
Advertisement – Continue Reading Below