MoveOn Members Endorse Beto O'Rourke for Governor of Texas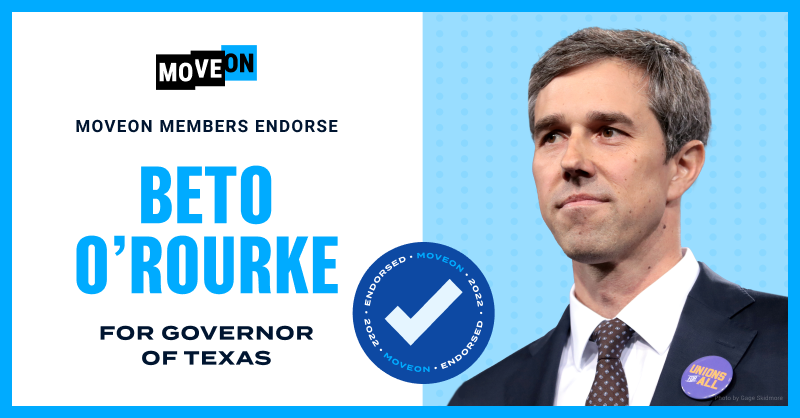 TEXAS — Texas members of MoveOn have voted decisively to support Beto O'Rourke in the state's gubernatorial race, with an overwhelming 97% of votes cast in favor of backing O'Rourke. 
MoveOn has over 900,000 members in Texas, and the O'Rourke endorsement is one of MoveOn's first two endorsements for governor in 2022, the other being Stacey Abrams in Georgia. These two races were selected first because of the critical role the next governor will play in the lives of their constituents, as well as being cornerstones of determining if we will continue to have a functioning democracy where people will retain the right to have their vote count and actually determine the winner of elections. 
Beto O'Rourke's run for governor against Republican Greg Abbott is the next phase in the ongoing struggle to ensure politicians focus on the things Texans need, including improving the electrical grid, creating jobs, restoring a woman's right to choose, and expanding Medicaid. 
"Beto O'Rourke is the leader that is needed at this moment in our democracy," says Rahna Epting, executive director of MoveOn Political Action. "It is essential that the people of Texas have a governor with every person's best interests at heart. Science and safety are on the line with this race, and it is time to protect Texans across the state."
The decision by MoveOn members to endorse Beto will activate the statewide and national grassroots network to begin fundraising, as well as on-the-ground and digital organizing efforts on his behalf. This endorsement follows MoveOn's massive organizing effort in Texas to mobilize members to vote, volunteer, and contribute to successfully defeat Donald Trump, and it supports their continued efforts to hold Greg Abbott accountable. 
Beto O'Rourke is a fourth-generation Texan, born and raised in El Paso, where he served as a small-business owner, city council member, and a United States representative in Congress. Beto has dedicated his career to uplifting and supporting progressive values and legislation both inside and outside of the state. He has worked vigorously to strengthen our democracy and expand the social safety net. 
Beto O'Rourke will also give Texas a voice that believes in science and truth again, instead of Greg Abbott's conspiracy theories about vaccines, masks, and the Trump insurrectionists who attacked Congress. 
Here's what a few MoveOn members in Texas had to say about O'Rourke:
"Beto has put in the footwork day in and day out across the state and has proven that he is willing to invest in the long-term infrastructure critical for democratic gains in Texas." –Patrick M., McKinney, TX

"Beto believes that we all deserve better and should be treated right. His honesty and openness are something this state is in desperate need of. Beto is the governor Texas needs!" –Christopher S., Richmond, TX

"I have no doubt Beto will work hard for the people of Texas and make honest and fair decisions for all Texans." –Carol M., Carrollton, TX
For additional information or questions, contact press@moveon.org.