MoveOn Members Endorse Jessica Cisneros for Congress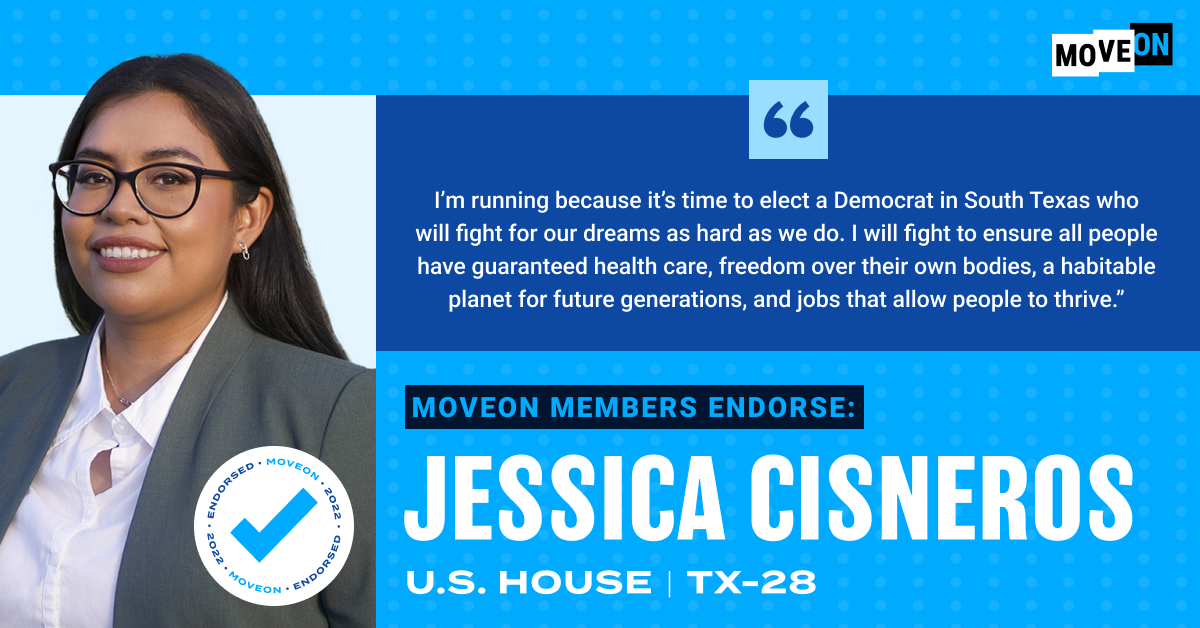 TEXAS — Texas members of MoveOn have voted decisively to support Jessica Cisneros for the U.S. House of Representatives, with 80% of votes cast in favor of endorsing Cisneros for the 28th Congressional District in Texas.
"This primary election represents the competing visions for the Democratic Party," says Rahna Epting, executive director of MoveOn Political Action. "Jessica Cisneros is an outspoken champion of South Texans. She will fight for everyday people in her community and in the halls of Congress, while Rep. Henry Cuellar continues to side with corporations and the wealthy over the health and well-being of all of his constituents."
MoveOn Political Action is proud to endorse Cisneros. As a human rights attorney, Laredo native, and community leader, Cisneros has worked to advance policies that ensure everyone can thrive. Over the next two months, MoveOn members will activate their grassroots Texas networks to volunteer to contact voters, fundraise money for the campaign, and mobilize folks in digital spaces.
Here is what MoveOn members in Texas had to say about why they support Jessica Cisneros:
"I believe Jessica Cisneros represents true democratic values. She will fight for poor and working-class Texans, and not just the wealthy and well connected." –Anna R., Laredo, TX
"She is a fighter. We need a true progressive Democrat in Congress. Someone with a fresh point of view." –Florencio R., Roma, TX 
"I am tired of Congressman Henry Cuellar voting with Republicans over the little guy. His subservience to the oil and gas industry is hurting our communities. Jessica Cisneros will stand up to the special interests in Washington and stand for everyday Texans." –Ed B., Floresville, TX
About MoveOn Political Action: The 2022 election will be MoveOn's biggest grassroots organizing effort to date in a midterm cycle. In 2020, MoveOn members:
Raised more than

$7 million

in small-dollar donations, with nearly

$4 million

of that directed to critical down-ballot Senate and House races;

Sent

155 million

text messages to voters across the country and made 188,000 calls to voters in targeted states; 

Organized

986,306

volunteers for a relational voter program who engaged with more than

3 million

battleground state voters they personally knew; and

Aired over

$5 million

in targeted ad campaigns. 
###
For additional information or questions, contact press@moveon.org.