MoveOn Members Endorse Stacey Abrams for Governor of Georgia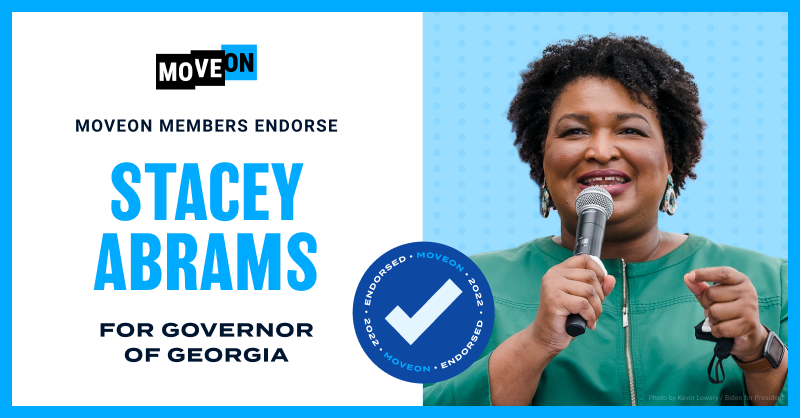 GEORGIA — Georgia members of MoveOn have voted decisively to support Stacey Abrams in the state's race for governor, with an overwhelming 97% of votes cast in favor of backing Abrams. 
MoveOn has over 400,000 members in Georgia, and the Abrams endorsement is one of MoveOn's first two endorsements for governor in 2022, the other being Beto O'Rourke in Texas. These two races were selected first because of the critical role the next governor will play in the lives of their constituents as well as being cornerstones of determining if we will continue to have a functioning democracy where people will retain the right to have their vote count and actually determine the winner of elections. 
Stacey Abrams' run for governor against a divided and extreme Republican Party in Georgia will determine if people get the help they need with jobs, if a woman's right to choose is protected from Trump's Supreme Court, and if Medicaid will be expanded.
"Stacey Abrams is the leader we need for this moment in our democracy," says Rahna Epting, Executive Director of MoveOn Political Action. "The stakes of next year's midterm elections are high, and the livelihoods and rights of Americans are on the line. The people of Georgia need a governor who not only understands them but who is also willing to fight to protect those rights."
The decision by MoveOn members to endorse Abrams will activate the statewide and national grassroots network to begin fundraising, as well as on-the-ground and digital organizing efforts on her behalf. In 2018, MoveOn members raised more than $1 million for Abrams' campaign, in an election that electrified both the Peach State and the country.
Over three years after Abrams challenged Georgia's Republican Governor Brian Kemp in an election that she narrowly lost, Abrams faces new challenges presented by the ever-changing political landscape of Georgia. More than 1.2 million new voters have entered Georgia's electorate since 2018, with a younger and more diverse demographic. Building her name as a voting rights activist, Abrams has quickly become a thorn in the side of Republicans. However, Republicans are not too fond of the incumbent governor Brian Kemp, providing Abrams the capacity to continue building a strong base of diverse voters. 
Stacey Abrams was the first Black woman to become the gubernatorial nominee for a major party in the United States and won more votes than any other Democrat in the state's history. During her tenure in Georgia's House of Representatives, Abrams fought to improve the lives of all Georgians by single-handedly stopping the largest tax increase on middle-class Georgians in the state's history, advancing criminal justice reforms that reduced prison costs without increasing crime, and working with Republicans on the state's biggest-ever public transportation funding package.
Stacey Abrams hopes to build a statewide operation that is culturally reflective of the diversity in the state. Abrams recognizes the historic pain resulting from the pandemic which has exacerbated racial and income inequality in Georgia and plans to take immediate action in addressing these issues facing Georgians.
Here's what a few MoveOn members in Georgia had to say about Abrams:
"Stacey Abrams has worked hard over the years and demonstrated that she has the people of Georgia at heart." –Brenda V., Lawrenceville, GA

"Stacey Abrams is the only candidate for me. She thinks beyond local, and her projections for Georgia are for the future on a national level." –Jarman B., Atlanta, GA

"Stacey has been working tirelessly for us all for years. She will make a wonderful governor." –Kathryn K., Thomasville, GA 
For additional information or questions, contact press@moveon.org.