Vanderbilt Commodores Football – Quick thoughts: Vanderbilt 24, Kentucky 21
One-thousand, one-hundred and 19 days after its last Southeastern Conference football win, Vanderbilt finally got another with a 24-21 triumph at Kentucky's Kroger Field in Lexington, Ky. on Saturday.
One day after coach Clark Lea's birthday, the Commodores got an 8-yard touchdown pass from Mike Wright to Will Sheppard with 32 seconds remaining to snap a 26-game SEC losing streak.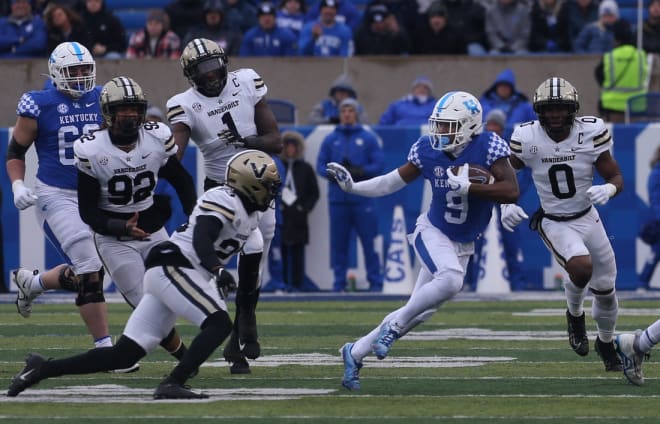 An emotional Lea, who had a brutal week between having the flu, the burden of the streak and the off-field controversy involving secondary coach Dan Jackson, fought back tears afterward.
"We got behind late and they kept fighting and when you stay in the fight and believe good things happen," Lea said.
Kentucky's Chris Rodriguez Jr. ran for 162 yards and a pair of second-half touchdowns, and appeared to put the Wildcats in a spot to win.
But Wright led Vandy on a 12-play, 80-yard drive and hit Sheppard on a slant on a third-and-goal play for the go-ahead score. Vanderbilt's CJ Taylor added a pick on a fourth-down play to seal the game.
Running back Ray Davis rushed for 129 yards, while Mike Wright added 126 on the ground.
Rodriguez dashed 72 yards for a go-ahead score with 5:03 to play. Earlier, Rodriguez scored the go-ahead touchdown with 1:14 left in the third quarter for Kentucky's first lead of the day at 15-14.
This came just Vanderbilt kicker Joseph Bulovas hit a 26-yard field goal to edge the 'Dores back ahead with 5:52 left
Earlier, Vanderbilt took a 14-6 lead with 7:47 left in the third quarter when Bulovas's point-after followed a 1-yard touchdown run from Davis, who had key blocks from Julian Hernandez and Jacob Brammer to cross the goal line.
Kentucky answered with Matt Ruffolo's 39-yard field goal to cut the lead to five.
Vanderbilt had a 7-6 lead at half despite a minus-2 turnover margin, thanks to 201 yards of offense to Kentucky's 147.
After Will Sheppard lost a fumble on the game's first drive, a Wildcat return and a holding penalty on that return set Kentucky up at the Vandy 29. The Wildcats failed to move a yard but Ruffolo hit a 47-yard field for a 3-0 lead.
Vandy bounced back after Wright faked an end-around to Jayden McGowan and raced 59 yards untouched for a score.
Kentucky's Ruffolo answered with a 27-yarder on the next drive to get the 'Cats with a point with 3:33 left in the first quarter. The 'Cats got within short field goal range again on their next drive, but Nate Clifton blocked it to keep Vandy ahead.
Quick thoughts
Vanderbilt overcame a ton of adversity.
Some of it was self-inflicted (two turnovers, an untimely penalty or two) but a lot was not. The Commodores played without starting quarterback AJ Swann and starting lineman Bradley Ashmore, who are both hurt. The 'Dores had a Will Sheppard fumble that looked questionable (replays were inconclusive, and maybe if the call on the field wasn't a fumble it would have held) and a bogus horse-collar tackling call on De'Rickey Wright, who had a Kentucky player by the lower half of the numbers).
The Rodriguez run could have been a back-breaker, but instead, Wright led Vandy down the field for the win. That's a huge step for a program that's been beaten-down beyond belief, and maybe the foundation for better things ahead.
It's the kind of pace Vandy needed.
This wasn't an awful matchup on paper because Kentucky plays at a slow pace, which is what Vanderbilt needed to get a win against a better team.
Third down defense.
Vandy brought pressure and it worked more often than not. There were times it failed, such as when Levis converted a 4th and 6 as a guy was open. But the Wildcats were 4-of-12 on third downs and Vandy's ability to get stops was huge.
Wright was huge.
Wright's throwing wasn't always great, but it was more than good enough. He made big plays time and time again and the throw to win the game was a perfect one to Sheppard.
You've got to be happy for Clark Lea.
Good and decent people can be hard to find in big-time college football, but Lea's one of them. He's fought the perception that stoicism isn't the recipe for success at Vanderbilt, but you could see how much Lee felt the weight of the streak and the emotion of finally getting a win to take the monkey off his back. Few coaches had a tougher week than Lea, and hats off to him for getting his team ready.